Welcome to The New Normal. Wipe your feet on the way in; avoid going back out (keep at least a metre away from others if you do); and, if you can, conduct as much of your life as possible over the phone or via video.
It's a new way of living and working that we're all getting used to, but what does it mean for sectors such as the property market, and the literal bricks and mortar businesses which comprise its multi-trillion pound value?
A key area of concern is the implications for buyer behaviour, specifically the new ways in which prospective buyers will engage with property developers and sales agents in the wake of the Covid-19 pandemic.
When lockdown was announced, some of the first things to be shuttered were marketing suites and showhomes for new properties, which saw developers rushing to create virtual viewing pages under immense time pressures.
Now that restrictions are being eased and marketing suites are back open, there are nevertheless some indications that, for many people, the end of lockdown doesn't equate to a return to normality.
A recent YouGov poll found that almost half (48%) of people think the relaxation of lockdown rules is moving too fast; while more than two thirds (38%) think places such as pubs, cinemas and shops should not have been allowed to open.
Even more revealingly, public opposition to the easing of lockdown has actually increased over recent weeks. Put simply, there is a growing number of people who have little interest in returning to life as normal any time soon.
"More than a quarter of potential homebuyers say that in the wake of Covid-19 they would rather use video and online chat than visit marketing suites and showhomes."
Source: theEword survey, June 2020
So where does this leave industries such as property, which has traditionally relied on physical footfall and offline, face-to-face sales and marketing techniques, particularly when it comes to new build sales? If people are less willing to make trips outdoors, what are the chances they will stumble upon a marketing suite by chance? Or follow up a social media advert they've seen with a real-world visit to go and check out the development? Slimmer than before, you'd think.
So, as with the recent rise of virtual viewings as a valuable sales innovation, developers and agents are quickly investigating other means by which they can engage with customers safely, remotely and efficiently. And one of the smartest ways of achieving this is through the use of chatbots.
What is a chatbot? According to the Oxford English Dictionary, a chatbot is "[a] computer program designed to simulate conversation with human users, especially over the internet." More sophisticated chatbots are able to use artificial intelligence and machine learning to emulate – and ultimately replace – the interaction people would normally have with sales agents.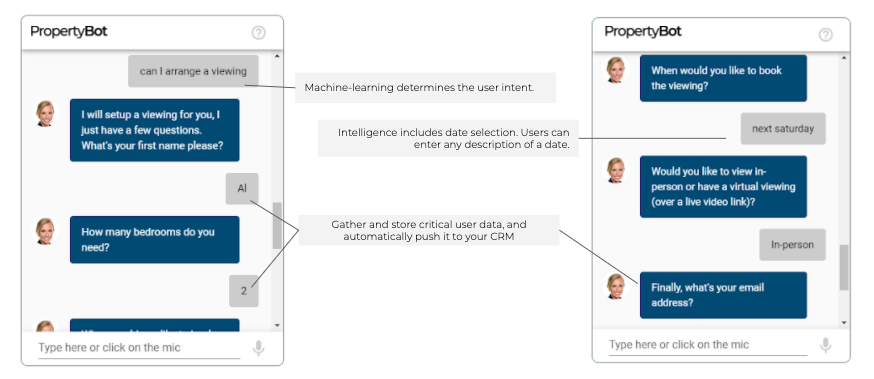 While the idea of handing over elements of your sales and customer service function to an AI-powered virtual assistant may at first seem unusual, attitudes towards the technology among consumers are warming up rapidly.
"Already, 43% of potential homebuyers say they would prefer to speak to a chatbot than a sales agent when making enquiries about a property."
Source: theEword survey, June 2020
It makes perfect sense: chatbots offer an easy, quick and reliable way of garnering information about a property – at any time of the day or week – from the comfort of the user's home. It's one of the reasons why retail and leisure brands have been deploying them as part of their omnichannel marketing environments to great success and the delight of consumers.
What can a chatbot do for your property brand?
Beyond the obvious benefits of providing an efficient and easily accessible sales touchpoint in a post-pandemic world, there are a number of specific advantages that come along with the tech.
Chatbots lead to increased sales
Chatbots can be set up to provide answers to questions in an engaging way, but the machine learning that powers the best of them can make for a greatly personalised sales experience for individual customers, ramping up conversion rates by sharing relevant information and products quicker. Messenger bots can also remind people of houses and apartments they have previously looked at, reigniting interest that might otherwise have been lost.
Chatbots improve your customer experience
Always on time, polite, and ready to share accurate information quickly, chatbots make for great brand representatives at an early-stage touchpoint. You can be assured that prospect buyers' queries will be answered in a timely manner and in the exact language you'd like. This is perhaps one of the reasons why some studies suggest chatbots may handle as much of 85% of customer relations by the end of this year.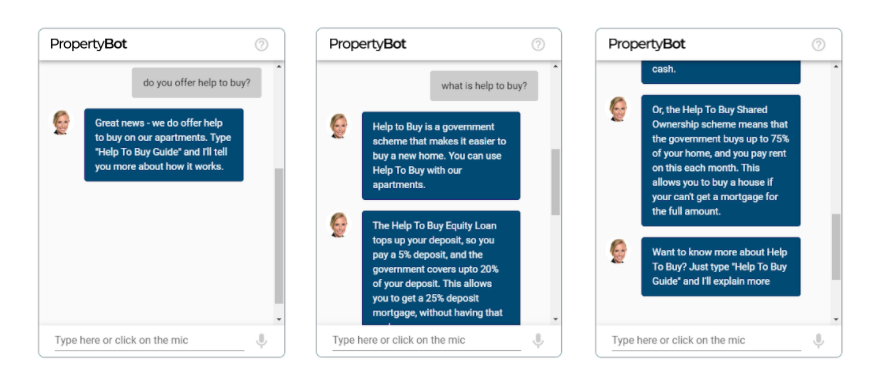 Chatbots save time and money
Are your sales teams bored of answering the same questions over and over again? Do they spend too much time handling early-stage enquiries on topics such as service charges, parking and Help to Buy? Worse still, does a no-filter approach to lead gen leave them open to being tied up talking to timewasters? Yes, yes and yes. The way chatbots are set up to answer questions – and the way the smart ones use machine learning to evolve their understanding of queries – means they can be left to answer the more basic enquiries in the first instance, giving sales teams more time to better handle complex or late-stage enquiries.
Chatbots create stand-out
While some sectors have been pressing ahead for a while with the use of chatbots for customer service, few property developers and agents are currently making the most of them – if they're using them at all. And yet we've seen above how customers aren't just comfortable with this technology – almost half of them prefer it. So when property brands make the leap and implement chatbots, it creates a feeling of stand-out which will increase memorability, recall and ultimately conversions among prospects.
Chatbots for property marketing: key benefits
The general benefits of using chatbots as part of your marketing and CRM toolset are clear, but there are also other advantages that make them even more desirable to property developers and agents. Let's recap everything and chunk up the top five:
Lower costs

Increased lead volume

Improved sales agent efficiency

Decreased visit-to-reservation time

Improved data capture and analytics
The increased speed and efficiency with which chatbots can provide potential buyers with answers is a huge boon for those involved in property sales: savings can be made both in terms of the scale of sales teams and the time individual agents spend answering early-stage questions about developments and schemes. This in turn leads to a more cost-effective sales operation overall, one which generates more leads, reduces the time between initial enquiry and reservation, and vastly improves the quality of data and analytics generated by the process.
Crucially, chatbots also provide a first line of defence for sales teams. As well as preventing agents being bogged down with answering basic questions about developments, the chatbot can also be set up in a way to filter out people who are further away from making a purchase (or those aforementioned timewasters, if you prefer), so that sales agents need waste no time contacting people who are unlikely to convert. And even better than all of that, the experience for customers is vastly improved, too, as the bot meets a number of their needs.

More sophisticated chatbots can also act as something of a virtual assistant in the background, performing tasks such as auto-replying to prospects when they book a viewing – and then messaging sales agents to remind them. This reduces the chance that quality leads slip through the net due to human error.
As exciting as the possibilities offered by chatbots are, their implementation comes with challenges. Choosing the right tech, putting it in place on your website and social channels, while configuring everything in a way that works best for your customers and your business, can all be sizable tasks.
We can help you build a chatbot strategy
Recognise that chatbots can reduce costs, improve the customer experience and maximise revenue?

For a no-obligation consultation with one of our experts speak to our team by calling 0800 0149 884 or by messaging us