Twitter has recently increased it's maximum character length from 140 to 280.
Using Manchester Metropolitan University's cutting edge eye-tracking software, we tested the hypothesis that Twitter users, craving brevity, were skipping longer tweets.
How did we get here?
This project began as a result of an office conversation between myself and Alex Coe, our Head of Strategic Growth. In this conversation I stated that, post Twitter's decision to increase character length from 140 to 280, I was enjoying not having to fight with character length when constructing tweets.
Alex took umbrage with this statement, believing that whilst the character increase may have been handy for marketers trying to cram as much info as possible into a tweet, he, personally, skimmed over any tweet that looked longer than 140 character. Alex said he used the platform for a short, sharp burst of news, and ignored anything that resembled a diatribe.
Getting the tram home that night, I passed the time by scrolling through Twitter. After skimming for a few minutes, I remembered my conversation with Alex and realised he was right – I had been paying barely any attention to tweets that looked long.
The next day, I told Alex that I seemed to share his antipathy towards longform tweets (if you can call 280 character longform, anyway). This brought up some questions
1) Did myself and Alex simply lack an attention span?
2) Were there more who engaged with Twitter like us?
3) Should we be encouraging clients to stick with 140 tweets or to go long?
The Test
The Usability Lab, as the name suggests, is a lab-facility designed to test and analyse human behaviour when using computers or mobile devices. Their eye-tracking software provided us with exactly what we needed to test our hypothesis.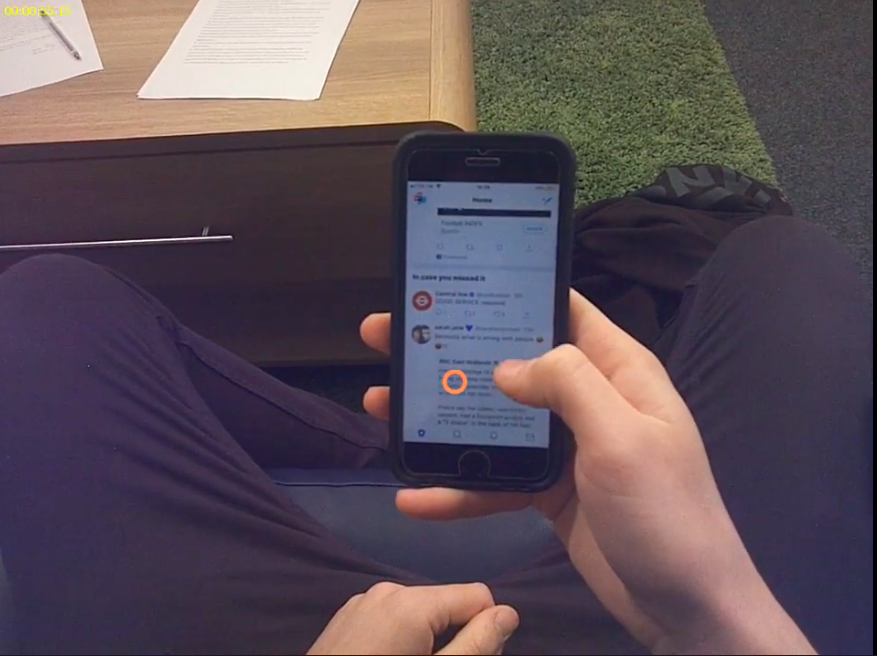 Before our test, we conducted a few dry runs. It became apparent that no test would be complete without a mention of media (images/GIFS/videos) and the effect they had on user engagement. Therefore we decided to incorporate whether or not a tweet had imagery or not into our test.
Our Hypothesis
Twitter users do not consume 280 character tweets in equal measure to 140 character tweets.
Tweets with media will receive greater attention, regardless of character length.
Experiment
To have a test group of Twitter users browse Twitter as they would normally whilst we use eye tracking software to analyse:
1) Where on tweets users look the most
2) How long users spend on tweets
Methodology
Using 10 volunteers, we asked each one to supply their Twitter handle so that we could set up a dummy account that would feature accounts similar to their own.
With each volunteer hooked up to the eye-monitoring software, we then asked them to browse Twitter as they normally would on a desktop or mobile, depending which group they were in.
The view from MMU
"Michael and Alex were able to test their hypotheses using the static and mobile eye trackers in our usability lab. Both trackers can accurately measure where a user is looking on a screen, over time. They can capture very fast eye movements (saccades), as well

as the places where users pause to focus their attention (fixations). In this study, the trackers were used to find how long users spent looking at each individual tweet. The static tracker, which sits just beneath a standard computer monitor, allowed for investigation of how people consumed tweets using a desktop browser window. While the mobile tracker, which is essentially a pair of glasses that the user wears on their head, allowed for investigation of how people consumed tweets using the mobile Twitter app."
Dr Rabia Khan, Senior Lecturer, School of Computing, Mathematics and Digital Technology
Our Findings
At a glance
1) People spent longer looking at tweets with media
2) Instead of skipping tweets over 140 characters, people lingered on them for longer
3) There are far fewer 'longform' tweets published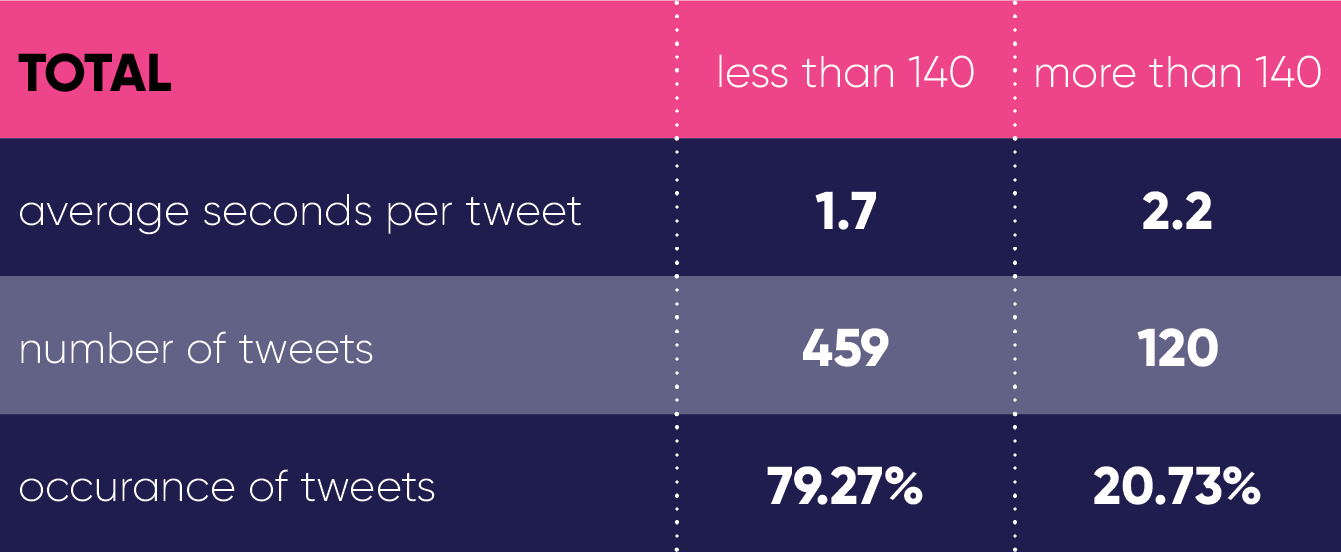 Desktop or mobile?
To image or not to image?
What this means
We were right in our prediction about tweets with media receiving more attention than those without. But to be fair, that's fairly obvious – what about tweet length?
Well, hands up. We were wrong – longer tweets demand more attention.
Our prediction was based around the assumption that people would skip longer tweets due to their downright wordy appearance. In this day and age, who has time for anything that looks long?
Erm, well, Twitter users, it seems.
Rather than skimming any War and Peace-esque tweets, our test subjects afforded them the respect their authors intended, allowing their eyes to indulgently hover over them, feverishly lapping up the content they espoused.
Or at any rate, they stayed on the longer tweets for an extra 0.5 of a second, practically a millenium in Twitter terms.
Breaking down the results a little further we can see that regardless of whether the tweet included media or not, bigger was in fact better when it came to encouraging greater time-on-tweet.
The results just go to show that no matter how much you think you know, true insight is only revealed through data.
What this means for marketers
The results show that people have a greater online attention span than you might assume. Therefore, if you need to use all 280 characters to get your point across, do it.
A long tweet, it appears, is there to be read, not skipped.
Cool insights we weren't expecting to find
1) People tend to read tweets in two ways
Name – image – tweet (very common)
Or
Tweet – engagement – name – time
Which are you?
2) Visual tweets
Visual content seems to be the starting point for a lot of participants – that's where they look first and then either keep scrolling or go back to read the actual tweet.
This asks the question, are you putting captivating images in your tweets?
3) Videos/GIFs can grab attention
On multiple occasions, videos/GIFs caused the participants to scroll past a tweet, but upon noticing it's a moving image, scrolling back up and reading the tweet.
Is it time you upped your media game?
4) Social proof plays a pivotal role
Multiple participants stopped scrolling and paid attention to a tweet when they saw other people had liked or retweeted.
This is especially interesting considering the accounts followed from the test account were not all followed by the participants of the test.
5) Don't forget your captions
We found that not only did the majority of participants read captions but in fact, captions under images were more likely to be read than tweets themselves, with users spending a long time on this section.
Want to chat?
If you need some help breathing life into your social media, get in touch. Our team can help you to harness the power of social media – allowing you to reach new audiences and tap into new business.
Speak to our award-winning team today.
{{cta('1ce6d406-74e2-4eb1-a0cb-0cc8cf974b8f')}}
Infographic Embed Code
Want to share this infographic on your site? Just copy and paste the embed code below:
<textarea style="margin:0px; width:100%; height:200px;">
<img src="https://cdn2.hubspot.net/hubfs/506760/twitter-study-infographic.png" width="800″ alt="140 vs 280 – A Twitter study into character length">
<a href="https://www.theeword.co.uk/blog/short-and-sweet-or-bigger-and-better-a-study-into-tweet-length">
</a><p><strong>140 vs 280 – A Twitter study into character length</strong>, courtesy of <a href="https://www.theeword.co.uk/contact-us">theEword</a></p>
</textarea>