More than half of marketers say that growing their organic digital presence and improving SEO is an inbound-marketing priority for them. Before we cover the ins and outs of how you can build links, let's look at why linkbuilding is still essential to digital marketing and SEO.
Why linkbuilding is important
Despite Google's PageRank algorithm being old enough to legally drink, it still remains an important factor in how Google ranks a webpage, with the Penguin update focusing on link quality rather than quantity. So, even though linkbuilding has changed over the years, it's still a massively important part of search marketing and an essential part of any digital marketing strategy.
Building a range of inbound links to your website – from trusted sources with high domain authorities, combined with quality outbound and internal links – will help to increase your site's domain authority and its performance in SERPs.
Getting the right inbound links does two main things for your site: it drives traffic and helps you rank higher in SERPs, by signifying to search engines that your website is seen as a trusted source by other high-quality domains – which in turn increases your own domain authority.
When we talk about linkbuilding, the importance of internal links often goes unmentioned – but they also have an important role to play. When Google crawls your website, it uses both internal and external links to help make sense of your content, so you should be using a mixture of both to increase the link value of different pages.
Although no-one knows the exact formula Google uses to determine how it ranks its search results, we can take an educated guess. As the Moz pie chart below shows, links make up a significant part of what are commonly agreed to be important ranking factors in Google.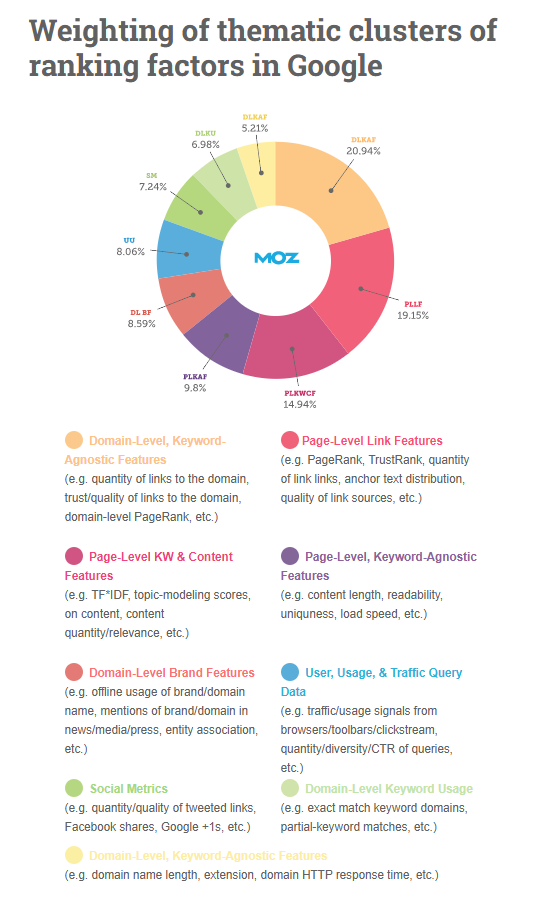 Linkbuilding also ensures that your website isn't just ranking well in SERPs, but also ranking well for the right keywords.
How to build links
Buying links is a thing of the past (well, it should be) and it's a shortcut that will prove detrimental to your rankings further down the line. If gaining quality links was as simple as paying for them, every marketer would be doing it, but they're not. The key to building links the right way is to create amazing content, to engage in outreach and think strategically about where you want to place links.
There are numerous ways that you can place inbound links: with link reclamation, influencer marketing, guest posting, and competitor backlink analysis being the most popular tactics used by marketers.
Link reclamation
Link reclamation can be a time-consuming process, often leading to people wondering if it's worth the effort – but it is. It involves looking for websites that have mentioned your business without linking to your website, then contacting them to request a link.
With some research and a well-worded email, you can gain some high-quality links, and the best part is that the people you're contacting will have already talked about your brand, so you don't need to win them over to mention you.
Often, when your business is mentioned, the lack of a link is simply an oversight. Spelling mistakes can also lead to broken links, so make sure that you look out for common ways your brand name could be misspelled, and search for those links to correct.
Influencer marketing
Influencer marketing is now an integral part of content marketing, and it's a useful tool for building links.
Whilst it often involves payment or offering a free activity, paying for links and paying influencers for their work are two very different things. Working with influencers – whether it's on a paid or unpaid basis – will guarantee a backlink to your site but be honest and make sure that it is no-follow. This doesn't mean that you won't receive follow links, we often find a great bit of content on a popular site results in a number of other sites linking to you. Also, working with an influencer is going to result in some social mentions too, another big ranking factor.
Don't forget that influencers also love sharing things that they've been a part of – so if you've worked with them on a project, send them all the assets they need to share the content on their site and social media. This is an easy way to get a backlink, because sharing the content will be mutually beneficial for your business and the influencer.
Guest-posting
Guest-posting is a tried-and-tested form of link-building, and an opportunity to organically reach a new audience. The key to successful guest-posting is being good at two things: creating engaging content, and winning over prospects with your content pitches.
The end goal of placing a guest post is to secure a link, but that's just one part of the equation. Focus on creating quality content that people will want to share on their website, and the link will follow. Remember: you need to be excited to create exciting content, because if you don't care about what you're creating, then why should anyone else?
A good way to find guest-blog opportunities is by using advanced search queries for prospecting. This will help you cut down on the time required to find prospects, and will ensure the likelihood of them accepting your content pitch, because you'll be targeting websites that clearly state that they accept guest blogs.
Competitor analysis
So, you want to build links, but aren't sure where to start? Running a competitor analysis will give you an overview of the types of content that are performing well in your industry, as well as showing you where your competitors are gaining links – after all, if they can do you it, why can't you?
Competitor analysis will give you an understanding of what your competitors are doing, and will help you identify potential link opportunities for your own brand. Buzzsumo and Majestic are both effective tools that you can use for competitor backlink analysis, and Buzzsumo comes with the added benefit of showing you the backlinks with the most social shares.
You can also use Buzzsumo to find the most-shared content on a certain topic, and then you can use this to inform your guest-post outreach and influencer marketing.
How to write great content
We've already talked how important creating high-quality content is, and we're so passionate about it that we've even created a guide! Click the image below and take the first step to creating great content.
For all your other digital marketing needs, take a look at our award-winning services or contact us to find out how we can help your business stand out in the digital world.