Given the ever evolving nature of their industry, it's no surprise to find that marketing professionals are busier than ever. Staying on top of trends, juggling projects and working to tight deadlines is a never ending battle.
Savvy businesses and developers recognise this, spending their time working on new tools to help ease the pressure on this stressed out bunch. It's also one of the reasons we put together this post on our top six time saving tips for marketers.
Barely a day goes by without a marketer being inundated with ads and emails offering free trials for the latest tool and bits of software. So, to save you more time and possibly harassment via email, here's a rundown of our top four picks.
1. HubSpot
HubSpot is the leading inbound marketing platform. It allows you to manage email marketing, websites, SEO, automation, landing pages, analytics, social media and your blog. Not bad, right?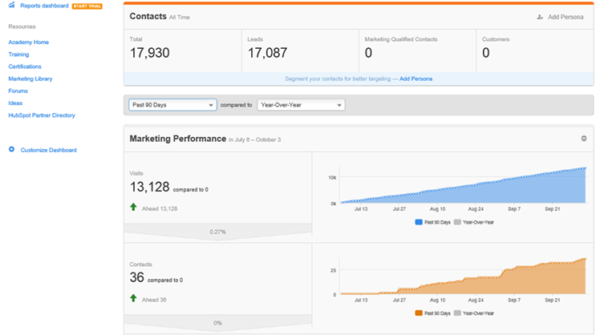 It's a sophisticated, all-in-one marketing software that, in their own words:
"Helps companies attract visitors, convert leads, and close customers."
HubSpot is a leader of the inbound revolution and preaches that marketers and businesses spend too much time trying to tell people what their product or service does and not enough time attracting more people to their site by creating content that their prospective customers actually care about.
Why is it good?
Hubspot really is a market leader when it comes to CRM and automation
It allows you to effectively monitor and report on campaigns very easily
It's simple to use, you don't necessarily need lots of tech know-how to make it work. Not only that, but they offer lots of support in the form of videos, blogs and an account manager to answer your queries
Hubspot is constantly evolving, adding new tools and user friendly updates. This means it's something you definitely need to spend time on in order to get the most out of it and see a real return on your inbound investment
Their annual Inbound conference attracts some of the biggest names from tech and entertainment around the world, as well as marketers from far and wide. Search #INBOUND15 to find out more
How much does it cost?
There are currently three different packages available, depending on your business needs.
The basic package starts at £140 per month and the most advanced package is £1680 per month. The prices are based on the amount of contacts you intend to upload and which services you'd like to use HubSpot for (landing pages, social media, email etc). One extra thing to note, each option requires a one-off onboarding fee to set up your account.
2. Trello
Familiar with project management tools such as Basecamp or Wrike? Well, Trello is a great and simple alternative.
Trello allows you to organise your projects into a series of boards. Within each board (project) you're able to set up lists and insert tasks under each list. If you're a fan of Post-It Notes, imagine a digital version and this is it. Here's one we made earlier from an event in 2015 we ran with Google: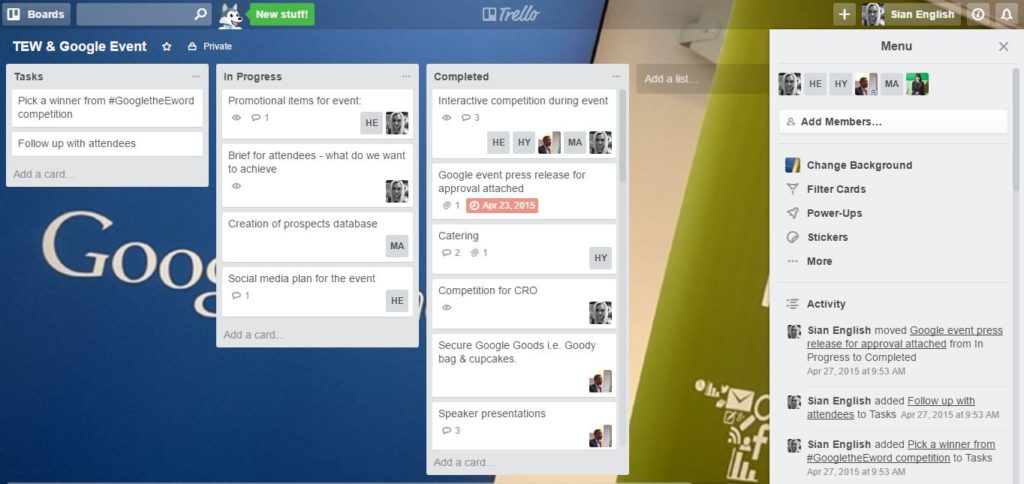 Trello allows you to run projects solo or collaborate, it shows you what's being worked on, who owns that action, set deadlines, alerts and follow the whole process.
Why is it good?
The basic, free version has most things you'll need
It can used collaboratively or alone, privately or publicly
You can get free upgrades to Trello Gold if you get your friends to sign up – this allows you to do cool things such as adding a bespoke background image
When you invite someone to your board, you can grant them editing privileges or leave them as a read-only viewer
You can also integrate Trello with Zapier (spoiler, we'll come on to Zapier shortly) to automate those pesky manual tasks
How much does it cost?
Other than the free option, you can pay $9.99 to a very specific $20.83 per month. Learn more about the costs and see the features here.
3. Slack
Slack is a messaging app for teams. It's primarily meant for workplaces and allows you to chat one-on-one or in groups. If you use WhatsApp on your smartphone, you'll be familiar with the concept – only this is an advanced version that sits on your desktop (don't worry, you can still send emojis).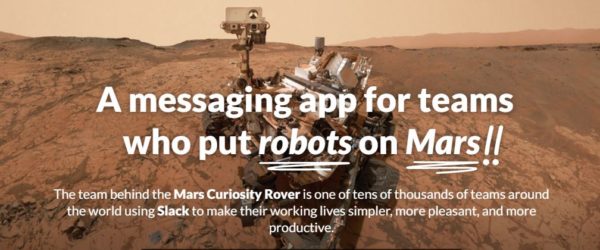 It's available across devices and platforms and allows you to upload or share files as well as integrate with other apps and services, including Skype for video calls.
Why is it good?
You can use a variety of other apps with Slack, allowing you to further automate and simplify your marketing life
It increases productivity and makes internal communication easier
You can set reminders in Slack
It doesn't require a user manual so it's super easy to get started immediately
It can and will cut down the time you spend on email, massively
How much does it cost?
Slack has four pricing tiers, including a robust free one. Fancy giving it a try? Sign up for free: https://slack.com/create#email or click the image below:
4. Zapier
Zapier is a very clever tool that allows you to automate functions between over 500 apps. Zapier lets you push or "zap" data from one place to another using triggers and actions. Bonus points, you can do all of this without having to harass your developer or tech team.
With a never ending list of Zapier hacks, this tool will allow you to automate everything from manual data tasks to social media. According to their website, Zapier are already helping BuzzFeed , Fox and Spotify to work smarter, not harder.
Why is it good?
Zaps are very easy to set up. Just choose from a list of platforms and then choose your trigger
It's fairly reliable – if for some reason a zap fails, you get an email notification letting you know and telling you what the problem is
It's simple. You don't have to be a developer to get the most from this tool
HubSpot, Trello and Slack all work with Zapier
How much does it cost?
There are three options available to choose from. The free option is limited, but good to experiment with if you'd like to save some time on basic tasks. After that, you can pay $20 to over $100 per month.
See the full pricing options and sign up for a free trial here.
Missing something?
It was hard to pick just four, but these are the ones we've seen some impressive efficiency related results with over the past 12 months. Tell us what tool you're seeing the most benefit with when it comes to marketing. Share what you use and why you use by completing the form below, we may just feature it in our next post.